Our Sunday school is suspended for this year. Instead, Fr. George will be giving weekly lessons in the church to all children, parents and other inquirers would like to attend after coffee hour.
​


Our Sunday School - Наша Воскресная Школа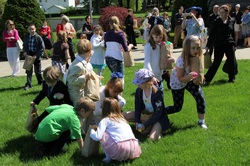 Three Saints' Sunday School is devoted to Orthodox Christian education (catechesis). The purpose of this is to help build up the Church, the Body of Christ by nurturing every person in the life of personal communion with the Holy Trinity (Troitsa). Being only a part of the total life of the Church, Orthodox Christian education is effective in the context of living faith in the home and the church.
Детская Воскресная школа при храме Трех Великих Святителей Еженедельно после воскресной Литургии в Русском Культурном Центре проводятся занятия Детской Воскресной школы при храме Трех Великих Святителей.
Продолжительность занятий - 1 академический час.
На занятиях дети приобретают знания об основных вехах Священной истории; о праздниках и святых Православной Церкви; о таинствах, богослужении и главных христианских молитвах. Занятия посещают дети как дошкольного (младшая группа), так и школьного (старшая группа) возрастов.
На настоящий момент общая численность обучающихся составляет около 29 человек.
School Year Begins: In September and ends in June of each year.
Attendance: All students in our Sunday School Program should be in Church for worship
at
9:00 a.m. They are expected to sit with their Sunday School classes and participate in a respectful manner during the Divine Liturgy. Students will be dismissed after Holy Communion to report directly to their respective classrooms.
The Sunday School aims to:
instruct our children to learn about their faith in Christ, the truth of the Bible and our Orthodox teachings.
cultivate in the hearts of our children a strong character with high moral values.
to cultivate in our children a deeper love and respect for their parents, their families and society in general
provide a sense of community and develop a Christian identity which form the armour for being a Christian within society

Sunday School Feedback: The Three Saints Sunday School would like to know what is important to you so we can better understand your needs. Please take a minute to E-mail
Fr. George Konyev
and let us know how we can improve.
The staff of the Sunday Catechetical School of the "Russian Orthodox Church of Three Saints", is as follows:
PTA President: Zinaida Moshkova

PTA Vice Presidents: Viktor Palagin

Secretary: Olga Chaikovsky

E-mail -
Fr. George Konyev
for questions or updates to the site
The Rules of Sunday School
1. The Russian Orthodox School of Three Saints Church in Garfield, N.J. will take place on Sunday after Divine Liturgy
2. The School year begins in September and ends in June (ten months)
3. Classes will be taught in English according to the Orthodox doctrines
4. Any conflicts or discrepancies will be discussed and solved by the Parish Priest and the Principal of the Sunday School
5. The teachers of the Sunday School will have full authority to establish discipline within the class without physical contact to the children
6. All children are required to attend Sunday Divine Liturgy, remain in the front of the church and conduct themselves orderly
7. All children must attend Sunday School regularly and on time
8. All children must be properly and neatly attired
9. All children must listen to and have respect for their teachers
10. Parents must bring their children to Church services
11. Parents must oversee their children preparing and reviewing lessons
Early dismissal from Sunday School requires a note signed by a parent. Faithful attendance is our only guarantee that our students will receive a meaningful understanding of our Orthodox Faith.
---